Cultural Human Resources Council
NEWS
---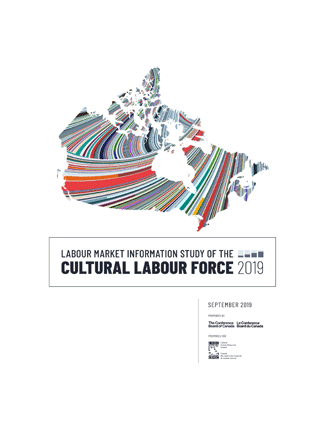 Release of the 2019 Labour Market Information study of Canada's cultural workforce
To all Canadian arts and culture sector workers, employers and organizations, the Cultural Human Resources Council (CHRC) is proud to announce the release of the 2019 Labour Market Information study (LMI) of Canada's cultural workforce. This study was undertaken in collaboration with the Conference Board of Canada (CBoC); and was funded by the Government of Canada's Sectoral Initiatives Program.
"With the $58.8B contribution to the Canadian GDP and a workforce of nearly 800,000 strong, the Conference Board of Canada demonstrates the importance of our sector in Canada's economy. The report highlights the challenges that the sector and its workers face, in turn, it offers important recommendations to help economic growth and sector strength."
– Richard Hornsby, CHRC Chair
The LMI report is available in both French and English online at http://www.culturalhrc.ca/LMI2019.
The report presents compilations and analyses of the most recent available data on the cultural workforce, addresses labour market trends and issues and offers recommendations to strengthen the cultural sector infrastructure.
CHRC is grateful to the LMI Steering and Advisory Committees, as well as to the hundreds of cultural workers who participated in the survey, focus-groups and interviews that have served to better inform the findings.
If you have any questions or comments, please contact CHRC's LMI Project Manager, Grégoire Gagnon, at ggagnon@culturalhrc.ca.
-30-
Grégoire Gagnon, D. Mus. & MPA
Project Manager
CHRC
ggagnon@culturalhrc.ca
For general inquiries about CHRC, its projects or to be added to our mailing list, please contact: info@culturalhrc.ca.